Anniversary of Vietnamese Teachers' Day
Anniversary of Vietnamese Teachers' Day


On November 19, 2022, Ba Ria – Vung Tau College of Education celebrated the 40th anniversary of Vietnamese Teachers' Day (November 20, 1982 - November 20, 2022).
There was the participation of leaders of departments, agencies and units inside and outside the province; former lecturers, lecturers, staff, employees, and school students of different academic courses.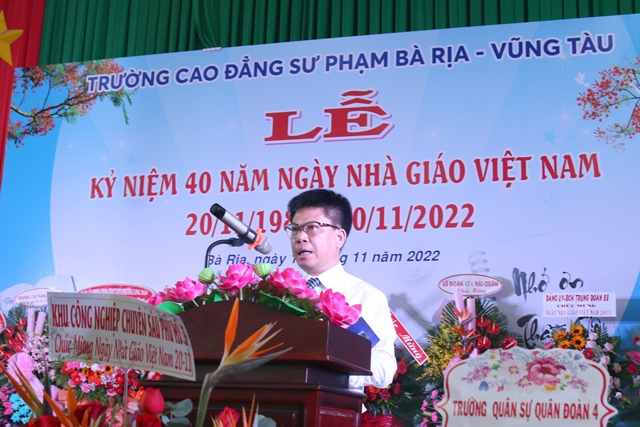 Dr. Pham Ngoc Son reviewing the tradition of Vietnamese Teachers' Day
Mr. Pham Ngoc Son, Chairman of the College Council, President of the College Union, reviewed the tradition of Vietnamese Teachers' Day, congratulated and expressed gratitude to generations of school lecturers for their contributions to the development of education and training of the province in general and of the school in particular.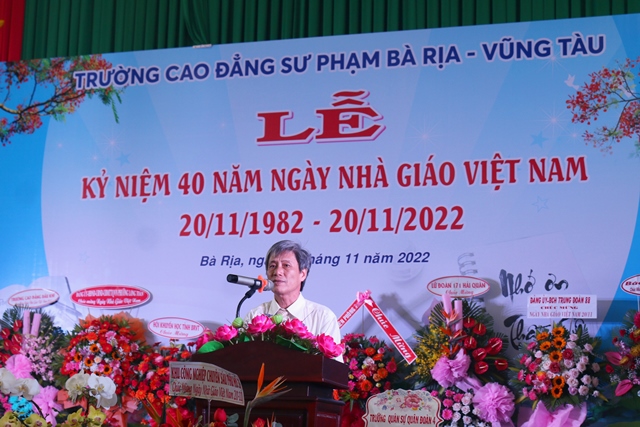 Dr. Ho Canh Hanh delivering a speech
Speaking at the ceremony, Mr. Ho Canh Hanh – Secretary of the Party Committee, Rector of the College, sent greetings to generations of teachers and expressed gratitude to provincial leaders, leaders of departments, branches, localities, units and businesses inside and outside the province who sent greeting cards, flowers, gifts and attended the school ceremony; and reminded young teachers and students to apply themselves and keep working in light of the slogan "Every teacher is an example of morality, self-study, creativity and No matter how difficult it is, we must strive for good teaching and learning."
On this occasion, three teachers Nguyen Thi Kim Chi, Nguyen Huu The, Ha Thi Kim Hang were awarded the Medal "For the Cause of Education" by the Ministry of Education and Training; Ms. Le Thi Kim Chi, Head of the Association of Former Teachers, received the medal "For the cause of Study Promotion" from the Central Committee of the Vietnam Study Promotion Association.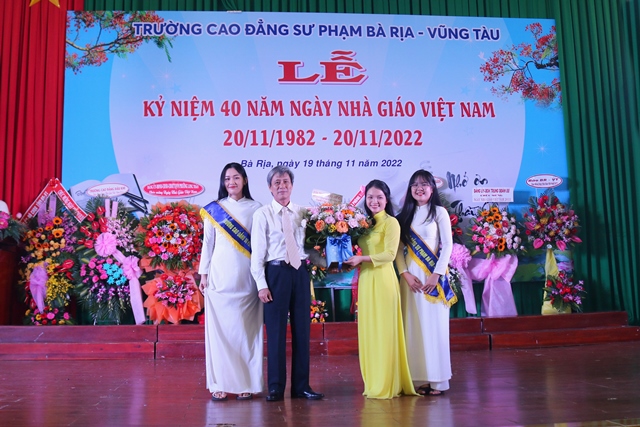 Rector Ho Canh Hanh receiving congratulation flowers from the student representatives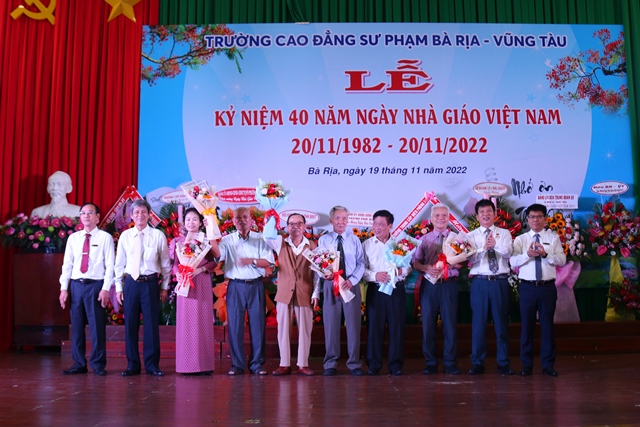 Current school leaders presenting flowers to former school leaders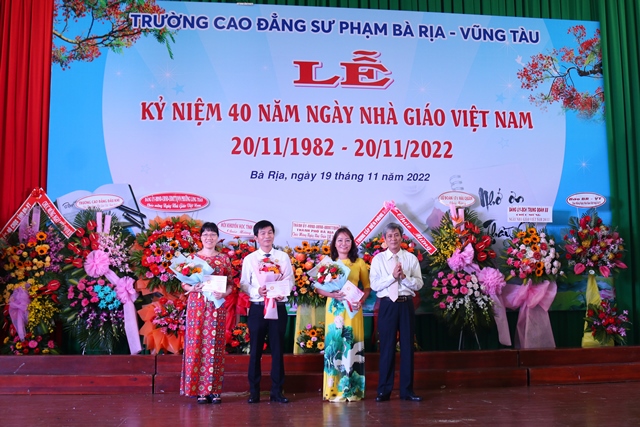 Teachers receiving the medal "For the Cause of Education"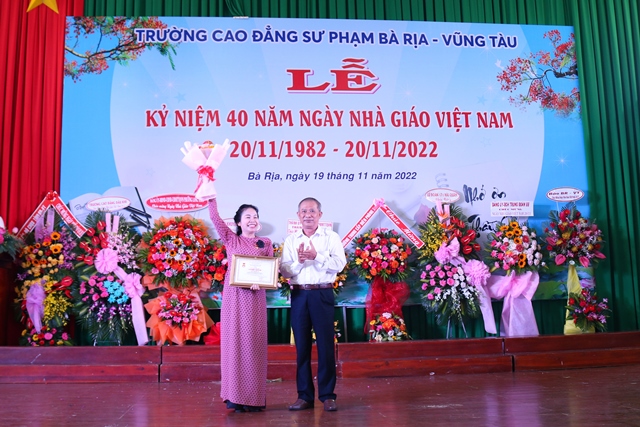 Mr. Luong Dich Duc - Chairman of the Provincial Study Promotion Association awarding the medal "For the Cause of Study Promotion"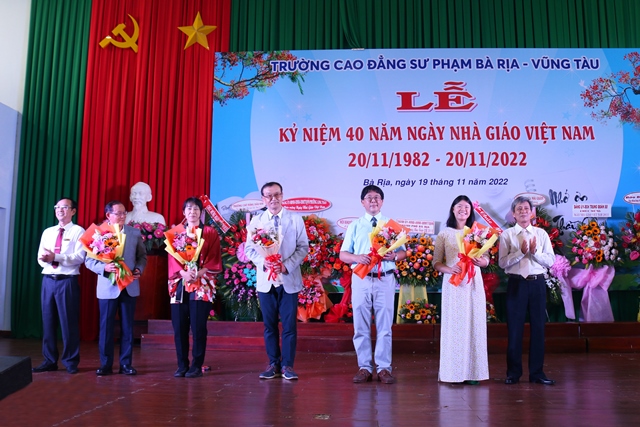 School leaders presenting flowers to foreign teachers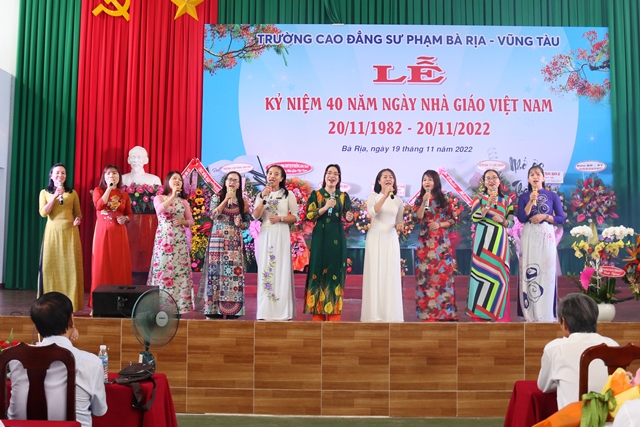 School staff in a music performance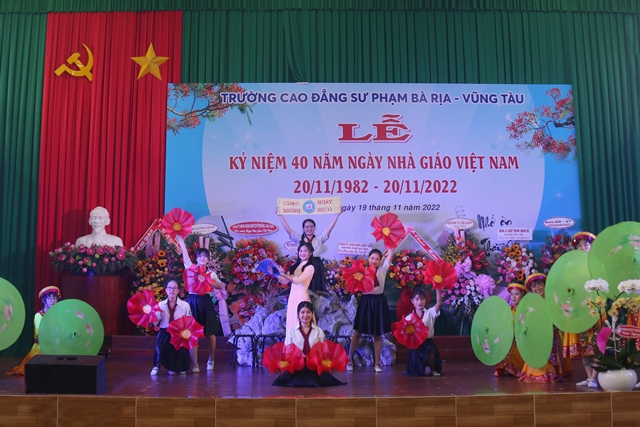 School students in a music performance
INTERNATIONAL RELATIONSHIP
---